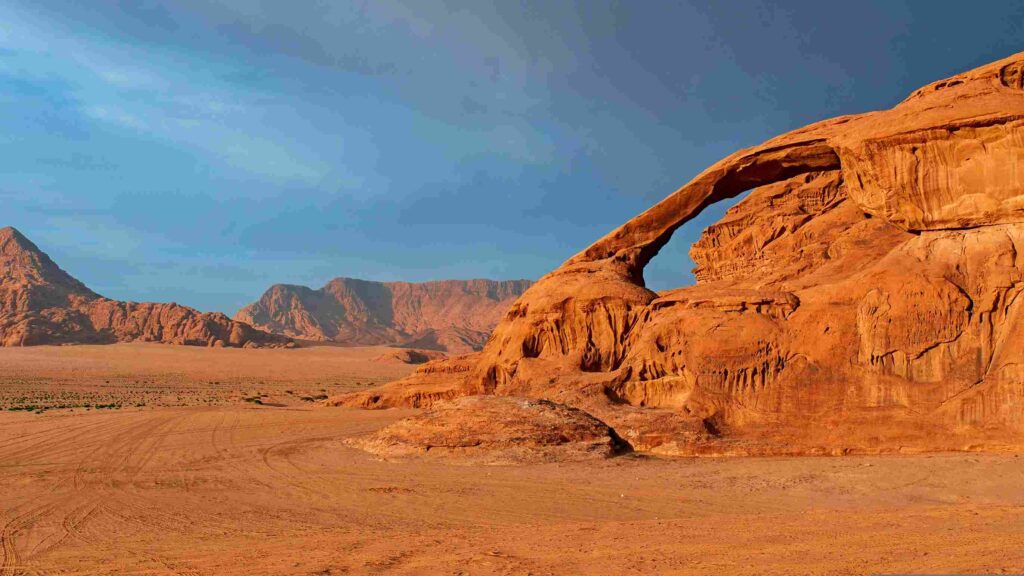 Our Full Day Jeep Tour with Jabal Burdah Hiking and 1-Hour Camel Riding, followed by an amazing overnight stay in Wadi Rum, will take you on a memorable trip. This well planned schedule allows you to immerse yourself in Jordan's natural marvels while also enjoying the excitement of outdoor activities.
Our adventure begins with an exhilarating Jeep excursion through the breathtaking surroundings of Wadi Rum. Embark in one of our comfy 4×4 cars and let our knowledgeable drivers guide you across the immense desert, revealing spectacular sights at every turn. As you explore this remarkable UNESCO World Heritage Site, marvel at the towering sandstone cliffs, ancient rock formations, and ever-changing colors of the desert.
Then it's time for a thrilling walk up Jabal Burdah, Wadi Rum's second-highest mountain. You'll travel rough terrain with expert guides, scrambling over rocks and ascending to the peak. The breathtaking panoramic views from the summit will take your breath away, delivering an unrivaled sense of accomplishment.
After descending from Jabal Burdah, it's time to indulge in a unique cultural experience – camel riding! Take a ride on these magnificent creatures and let them take you through the peaceful desert, making memories that will last a lifetime. Enjoy the gentle sway of the camel's gait as you soak in the tranquility of the surroundings.
As the day transitions into night, we offer you an authentic overnight experience in Wadi Rum. Enjoy a wonderful traditional Bedouin supper while relaxing over a comfortable campfire beneath the magnificent night sky. Immerse yourself in local culture by listening to beautiful tales and tunes provided by Bedouin hosts, resulting in a wonderful evening of connection and peace of mind.
Finally, retreat to your cozy Bedouin-style tent to unwind and recharge for the day's activities. Sleep to the tranquil sounds of the desert, knowing you've seen the finest of what Wadi Rum has to offer.
Join us for an unforgettable Full Day Jeep Tour that includes hiking in Jabal Burdah and a 1-hour camel ride, as well as an unforgettable overnight stay in Wadi Rum. Allow us to handle every aspect, assuring a smooth and enjoyable travel across Jordan's most breathtaking landscapes. Book your journey today and make experiences that will last a lifetime.
Wadi Rum Visitor center, Seven Pillars of Wisdom, Lawrence Springs, Al Khazali Canyon,  Wadi Noughra canyon, Lawrence's House and Natural Rock Bridges.
Pickup from your lodging.

Transfers to and from Wadi Rum on a comfortable vehicle. 

Entrance fees to Wadi Rum. 

Lunch in Wadi Rum.

Mineral water per person inside the vehicle.

Services of English-speaking guides.

Jeep Safari at Wadi Rum Protected Area.

One-hour camel ride.

One-night accommodation on half board basis in a Bedouin camp in Wadi Rum.
The program does not include:
Personal travel insurance and personal expenses.

Tips / gratuities to the guide and drivers.

Government Tax, Value Added Tax (VAT), or compulsory charges introduced after publication.

Optional excursions and activities (are subject to availability).

Any beverages with meals, unless mentioned and upon request.

Extra costs due to unanticipated changes in the itinerary for reasons beyond our control.

Anything not listed in the "includes".
Optional activities are subject to availability.

Optional private or onsite local guides.

Lunch is included and could be excluded upon request.

Optional special private vehicles available on request.
The tour itinerary is subject to change due to factors beyond our control and event of unforeseen circumstances or at the guide's discretion.
Minimum walking is required and climbing natural rock bridges is optional.
• A small backpack (for use during the day) .
• A hat, cap, or scarf.
• A flashlight or lantern.
• Moisturizing lipstick.
• Mosquito repellent.
• Sunscreen.
• Hiking boots or shoes..
• Power bank or battery (for charging your phone or camera in the desert) .
• Warm clothing.
• Sunglasses .
• Toiletries / towel / washcloth.
Make sure your clothing protect your skin from the sun and blowing sand. Wearing loose-fitting, long-sleeved clothing is the best method to do this. Lightweight and light-colored clothing is recommended. Furthermore, your clothing should allow you to do anything from sit on the ground to ride a camel to scramble up mountains and climb in the back of a jeep. Because day and night temperatures fluctuate greatly, we recommend carrying many layers of clothing. A warm jacket is required in early spring. When selecting your clothing, please keep in mind our tradition of wearing modestly by covering your arms, legs, and chest.
Walking shoes, sneakers, and trainers are all appropriate desert footwear.
Sandals and flip-flops are less ideal for summer use since the sand gets quite hot during the day and might burn your feet. Wear shoes that will not fall off during the camel ride.
Our desert is a vulnerable environment that faces multiple struggles. We agree with the expression "leave only footprints." As a result, we kindly request that you leave no litter behind. Please ask your guide for the trash bag.
In general, and throughout the year, the weather in Wadi Rum is nice. We only get rain 9-14 days out of the year. When it rains in Wadi Rum, it is usually light rain. However, severe or sustained rain is possible on occasion.
The coldest month is January, with temperatures ranging from 10 to 15 degrees Celsius.
August is the warmest month, with temperatures ranging from 30 to 40 degrees Celsius.
April is the driest month of the year.
September is the wettest month of the year. It is best to have thick clothing because nights in Wadi Rum may be very chilly after sunset.
If you wish to check the weather before you go, use this link.
This tour does not require special equipment.

Please keep in mind that this schedule is only a recommendation and that it can be modified based on your preferences and time restrictions. Also, timeframes may change due to traffic and other external variables or at the guide's discretion.

In the event of an increase in fuel prices, Via Jordan Travel & Tours reserves the right to raise the prices for its services without prior notice.

Optional special private vehicles available upon request.

Reservations made less than 20 working days before the start of the service may be subject to change.

Your booking is confirmed only upon the provision of 50% prepayment.