Petra, with a history dating back over 2,000 years, is a tribute to the creativity and supremacy of the Nabatean people who formerly called this hidden jewel home.
Petra prospered as a lucrative commerce center along the medieval spice routes because to the Nabateans' superior craftsmanship and strategic position. Through its busy markets and booming caravan routes, this ancient city prospered as a hub of commerce, linking different regions and civilizations.
Petra's reputation and richness peaked during the Hellenistic and Roman periods, when the city became a cultural melting pot. The Nabateans expertly combined their ancient architectural style with Greco-Roman influences, yielding the beautiful rock-cut façade and complex structures that define Petra's particular attractiveness.
Today, Petra is a UNESCO World Heritage Site and one of the New Seven Wonders of the World, enthralling visitors from all over the planet with its breathtaking beauty and profound historical importance. Its renowned Treasury, Monastery, and Royal Tombs continue to surprise tourists, while the city's hidden nooks conceal a plethora of secrets still to be revealed.
Explore the narrow paths of Petra, marveling at the delicately carved facades and ancient tombs, to learn about the city's history. Allow history's whispers to guide your journey, and envision the colorful life that once lived beneath these sandstone walls.
As you gaze in awe at the architectural wonders that dot the landscape, you can't help but experience a profound feeling of wonder and appreciation for the Nabateans' incredible achievements. Petra's history demonstrates the everlasting force of human inventiveness and the tenacity of those who came before us.
The Nabateans founded their capital in the heart of Jordan after emerging from the Arabian desert, converting the rough territory into a vibrant hub of trade and culture. The Nabateans created a vibrant culture that welcomed influences from all over the world because to their unrivaled understanding of commerce and strategic placement along the old spice routes.
They were highly skilled engineers and craftsmen who excelled in construction, carving elaborate facades into the pink sandstone cliffs with incredible precision, creating a stunning metropolis that still fascinates visitors today.

Step into the fabled Siq, a tiny ravine surrounded by high rocks, and allow the suspense to grow as you move closer to the recognizable Treasury. Prepare to be stunned by the grandeur of this ancient masterwork, embellished with elaborate carvings and an aura of mystery that has mesmerized explorers for years, as you emerge from the small path.
As you approach the Treasury, expect to be astounded by its beauty. This architectural masterpiece, carved into the brilliant rose-colored sandstone cliffs, features complex intricacies and a feeling of mystery that captivates visitors. The magnificent front, embellished with intricate friezes, sculptures, and legendary characters, recalls stories of a bygone era and the Nabatean civilization's rich cultural legacy.
For ages, the Treasury, known locally as Al-Khazneh, has been cloaked in mystery and folklore. The original purpose of this majestic architecture keeps generating visitors' interest and excitement, urging them to discover its mysteries.
The Street of Facades is a sight to behold, with its awe-inspiring rock-cut tombs and towering façades. Admire the beautiful decorations and workmanship that cover these massive monuments, which stand proudly, welcome you into their realm. Each façade conveys a narrative from the past, recalling the Nabatean civilization that formerly flourished here.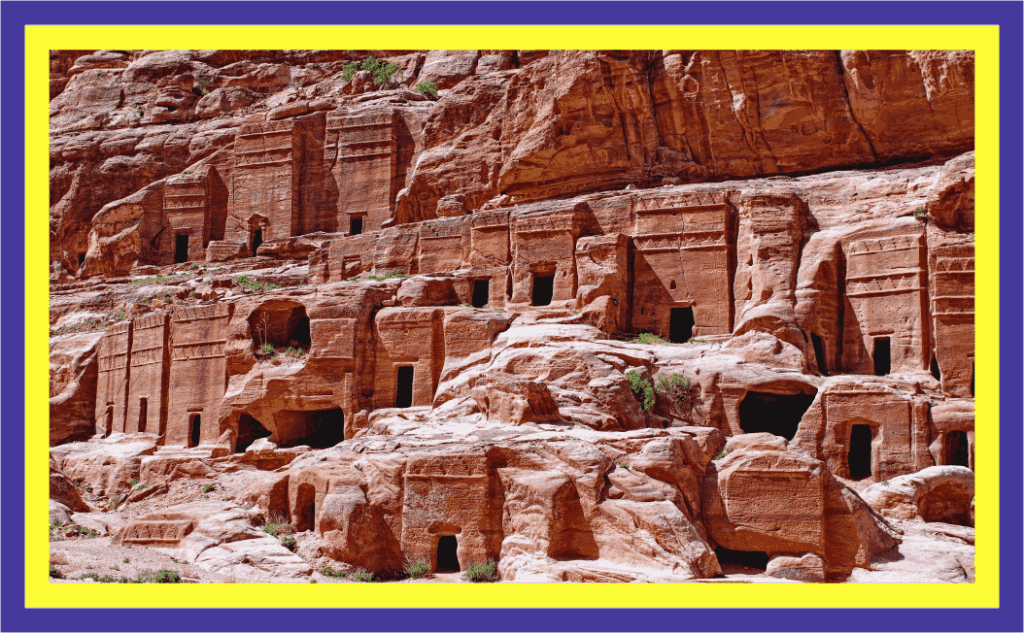 Continue your journey through Petra's twisting passageways, marveling at the spectacular views that await you. Discover the awe-inspiring Theater, where audiences were once entertained, and immerse yourself in the grandeur of the Royal Tombs, which are embellished with elaborate decorations that reflect the Nabateans' workmanship.
Aside from its beauty, the Amphitheatre has a particular position in Petra's history and significance. It is a symbol of the city's thriving cultural and social life, serving as a meeting place for the Nabatean community and visitors from all over the world. It demonstrates their aesthetic vision, inventiveness, and dedication to creating locations where tales may develop and hearts can be touched.
Imagine the sights that transpired on this stage—dramatic plays, cultural festivities, and social gatherings that brought Petra to life. As you stand in the centre of this great architectural wonder, you will hear the whispers of a bygone period.
As you go, take in the splendor of the Roman Colonnaded Street, an astounding marvel of engineering and urban design. This beautiful street spreads out before you, adorned with rows of towering columns, enticing you to discover its historical importance. Imagine the robust city life that formerly thrived here, with merchants, dealers, and travelers converging along this dynamic path.

The Monastery, also known as Al-Deir in Arabic, is perched high among Petra's craggy cliffs and pulls you in with its imposing presence. 
The thrill builds as you travel the curving pathways and stone steps, and the view improves with each step.
According to mythology, the Monastery was formerly a pilgrimage and devotional site, complete with a sacred shrine dedicated to a Nabatean god. As you explore its chambers and halls, you can't help but feel the weight of history and spirituality.
Discover the breathtaking High Place of Sacrifice, where history, spirituality, and natural beauty collide. Discover ancient Nabatean mysteries, walk along the footsteps of those seeking heavenly connection, and be awestruck by the sheer majesty of this unique archaeological jewel.
Aside from its archaeological value, the High Place of Sacrifice allows for contemplation and personal reflection. It is a place to reconnect with the old wisdom and customs of a bygone period, to consider life's everlasting concerns, and to find peace in nature's magnificence.
Experience the life-changing hike to Mount Hor, where the heavenly and the earthly merge as the ghosts of the past hum in the breeze.
It is a location where heaven and earth appear to merge, and it is a place where one can have a strong spiritual connection. It is regarded as the final resting place of the prophet Aaron, Moses' brother, in ancient traditions, making it a significant place of pilgrimage for people of all religions. According to legend, Aaron's grave is concealed beneath the mountain, a holy place with a powerful spiritual presence.

As the sun sets beyond the rose-red city's horizon, a trail of flickering candles illuminates the way, taking you into the narrow Siq, a beautiful gorge that hides Petra's riches. The rhythmic sounds of Bedouin music permeate the air, creating a relaxing and otherworldly atmosphere.
Find a seat amid the old stones, surrounded by history's whispers. As night falls, the storytelling begins, bringing you back in time via tales of the Nabateans and their amazing city. The rich palette of Petra's past unfolds in front of you, creating vivid images of trade caravans, busy markets, and the lively life that once flourished behind these towering walls.
Available on Mondays, Wednesdays, and Thursdays from 8.30 p.m. to 10.30 p.m.

Little Petra, also known as Siq al-Barid, is an example of the creativity and genius of the Nabateans, the same people who built the magnificent city of Petra. 
As you follow in the footsteps of early explorers and traders, you may transport yourself back in time as you wander around this magical location.
Whether you're a fan of history, an enthusiastic explorer, or just looking for a distinctive cultural experience, Little Petra is a place that will make an everlasting impression on your soul.
Discover Petra's mysteries, engross yourself in its fascinating past, and let its timeless beauty to make a lasting impression on your spirit. Whether you're interested in history, an intrepid explorer, or just looking for a once-in-a-lifetime experience, a trip to Petra is sure to arouse your senses and inspire your spirit of discovery.