One Day Tour to Saudi Arabia
Visit old historical locations and learn about the amazing stories of two prophets on a day trip.
A once-in-a-lifetime opportunity!
Explore the newly opened kingdom of Saudi Arabia and the land of Midian, which is referenced several times in both the Quran and the Torah.
According to Muslim tradition, here is where Prophet Shoaib was dispatched.
The Saudi Arabia trip begins with a transfer from your Aqaba hotel or cruise ship to the Jordanian-Saudi border. There, you will be transferred to the car of your Saudi guide, who will assist you in completing the border guard procedures and beginning your impression-filled tour of one of the Middle East's most secretive and enigmatic countries.
Today we will be exploring Madain – the land where Prophet Moses spent 10 years in voluntary exile before returning and freeing his people from Pharaoh Ramses II.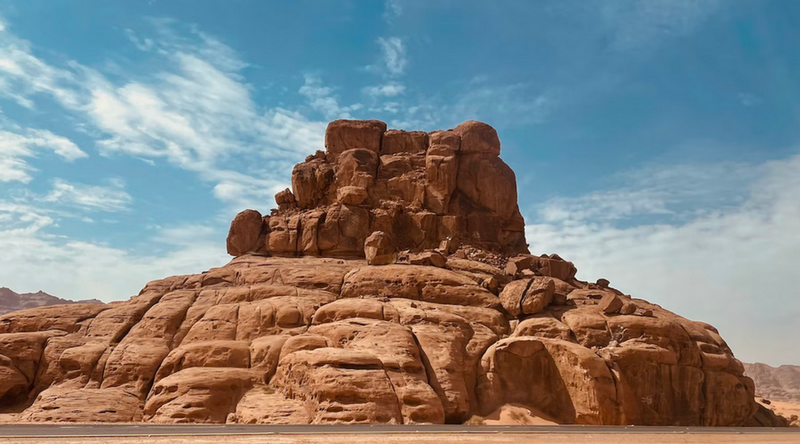 We'll take you through the grandiose future metropolis of NEOM, which Saudi Arabia is constructing from the ground up in the middle of the desert, and stop at the Catalina Seaplane Wreckage.
This combat seaplane has been abandoned on the remote sandy Ras Al Sheikh Hamid headland between the Red Sea and the Saudi Arabian desert for over 50 years. We will take a closer look at this 1930s American military seaplane before looking for a shady place for lunch.
After lunch we will head to Maqna oasis with 12 springs of Prophet Moses. The sprouting of water and its flow against gravity in the middle of the desert appears to be nothing less than magical. The well is surrounded by beautiful palm trees and its water runs downhill towards a lush palm grove.
Another location you will see today is Wadi Tayyib Al Ism, often known as the "Valley of Moses," where Prophet Moses crossed the Red Sea from Egypt to Saudi Arabia to escape the dictator Pharaoh of Egypt. This verdant oasis, surrounded by red-colored mountains and steep gorges, was an old rest place for weary travelers. The valley overlooks the sea and is recognized for its mesmerizing scenery and year-round crystal-clear water stream.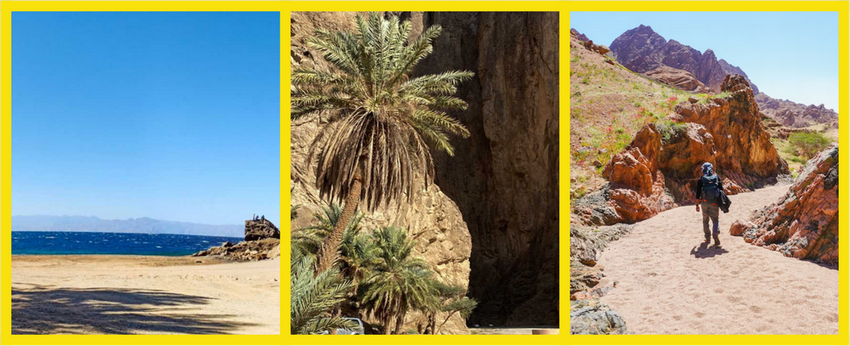 Maghaer Shoaib emerges out of nowhere in the reddish desert west of Tabuk, with beautifully carved façades and tombs constructed into sandstone cliffs reminiscent of Petra in Jordan, as you drive down a road that snakes its way to the turquoise seas and white beaches of the Gulf of Aqaba. Prophet Moses stayed here for a decade under the patronage of Prophet Shuaib, who was pleased by Moses' nobility and gave him his daughter to marry.
Moses subsequently returned to Egypt, but it is safe to believe that this magnificent site will live on within his heart forever.
Next, you get your comfortable seat in the vehicle and drive to the checkpoint to cross to the Jordanian side, where our escort driver will pick you up & take you back to your hotel / cruise ship in Aqaba.
Middle East, Saudi Arabia, land of Midian. Quran, Torah, Prophet Shoaib, Prophet Moses, Pharaoh Ramses, NEOM, Catalina Seaplane Wreckage, Ras Al Sheikh Hamid, Maqna oasis, 12 springs of Prophet Moses, Wadi Tayyib Al Ism, Maghaer Shoaib, Tabuk, Gulf of Aqaba.
Private tours with English-speaking guides are arranged and set at any date and time and anybody can book it. French, German, Spanish, and Russian-speaking guides are subject to request and availability.
Pickup from any place in Aqaba city.

Transfer to / from Saudi Arabian border.

English-speaking guide in Saudi Arabia.

Entrance fees to the sites.

Snacks & a bottle of mineral water to each person.
The program does not include:
Personal travel Insurance expenses.

Tips / gratuities.

Government tax, Value Added Tax (VAT), or compulsory charges introduced after publication.

Optional excursions and activities (are subject to availability).

Any beverages with meals, unless mentioned and upon request.

Carriages and camel rides.

Extra costs due to unanticipated changes in the itinerary for reasons beyond our control

Entry visa & departure tax.

Anything not listed in the "includes".
Optional activities are subject to availability.

Optional private or onsite local guides.

Guides in languages other than English are available upon request and subject to availability.
In winter, the weather in Amman can be cold, therefor warm clothing is required.

From the summer sun, you need to protect yourself with hats, sunscreen lotion, loose and cool clothes in summer.
The sites of interest on the trip are distributed throughout a pretty large area of Saudi Arabia., so good walking shoes are required.
A reasonable amount of walking is required.
The tour itinerary is subject to change due to factors beyond our control and event of unforeseen circumstances or at the guide's discretion.

The duration of this tour is at least 8 hours.

This tour is only for tourists with a pre-arranged Saudi Arabia Entry Visa, which can be obtained online by clicking on the link: https://visa.visitsaudi.com/Registration/Verify

In the Kingdom of Saudi Arabia, it is impossible to provide meals during the daytime hours of Ramadan.

Eating, drinking and chewing gum in public places is discouraged from around 4 AM till 8 PM during the month of Ramadan in the Kingdom of Saudi Arabia.

The holy month of Ramadan runs from March 22 to April 21, 2023.

In the event of an increase in fuel prices, Via Jordan Travel & Tours reserves the right to raise the prices for its services without prior notice.