Jordan Romantic Honeymoon Package: Ma'in, Dead Sea, Petra, Wadi Rum, and Aqaba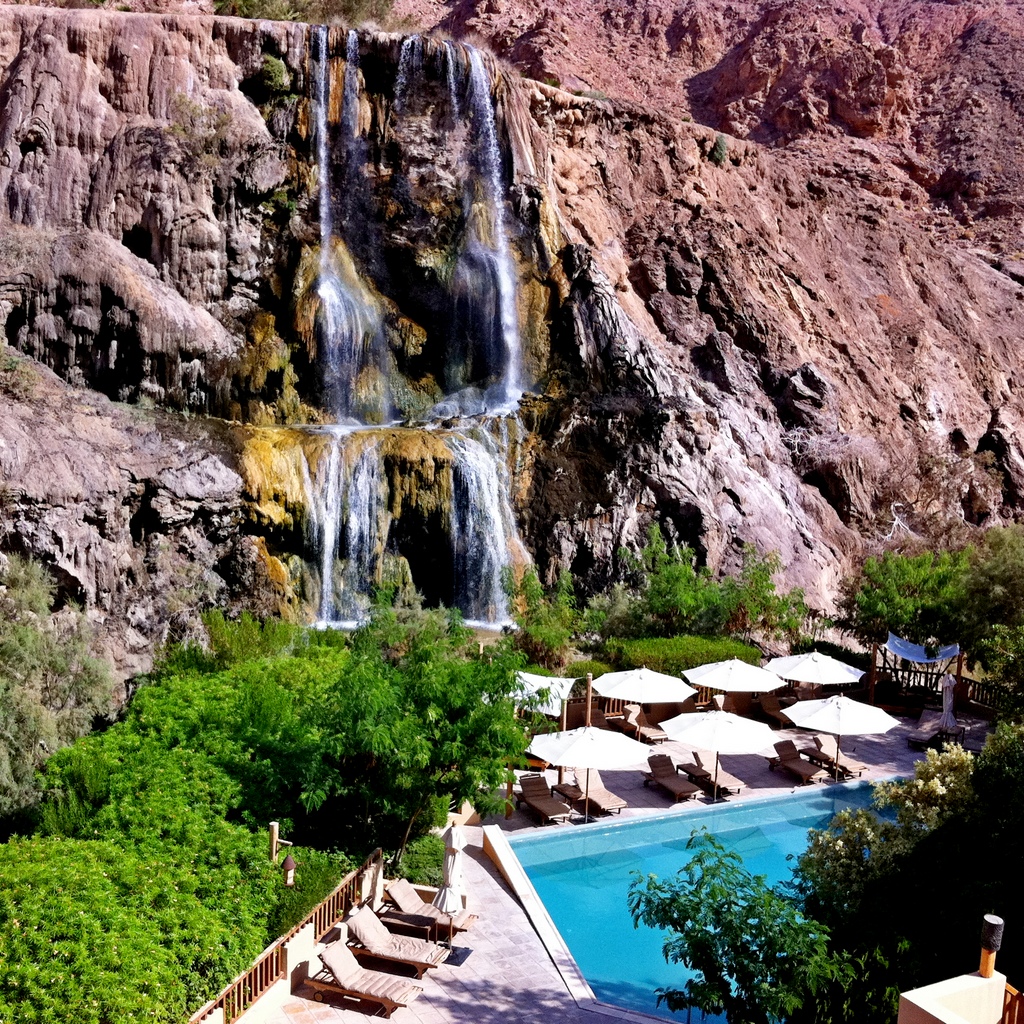 Day 1: Airport – Ma'in – A Wonderful Start
Begin your journey of love and peace as our staff greets you at Amman Queen Alia Airport. We will assist you with visa procedures before transporting you to the magnificent Ma'in Evasion Resorts. This calming sanctuary, nestled among the gorgeous Ma'in hot springs, sets the scene for a romantic getaway. Unwind and enjoy the relaxing hot springs and gorgeous waterfalls during your wonderful overnight stay.
Day 2: Ma'in – Embrace Serenity
Enjoy a day of peace and leisure at Evasion Resorts in Ma'in. Allow the therapeutic energies of the hot springs and the lovely waterfalls to surround you, providing a quiet scene for true romance. Enjoy this day together, basking in the wonderful ambience and making memories that will last a lifetime.
Day 3: Ma'in – Dead Sea – Luxury Surrender
Travel to the legendary Dead Sea, the lowest spot on Earth, where luxury and natural beauty meet. Enjoy a relaxing day at the captivating beach, letting the buoyant seas to engulf you in a calming embrace. Experience the transforming benefits of a mud bath, which is recognised for its nourishing and revitalising characteristics. As the sun sets, have a wonderful overnight stay immersed in the Dead Sea's charm.
Day 4: Relaxation and Romance at the Dead Sea
Enjoy another day of relaxation and romance in the enticing Dead Sea. Relax on the beach, swim in the calm waves, and let the peaceful atmosphere renew your spirit. Enjoy personal moments while immersing yourselves in the lovely surroundings, creating a unique honeymoon experience.
Day 5: Dead Sea – Madaba – Mount Nebo – Kerak Castle – Petra 
We will take you on an unforgettable tour to Madaba, which is famed for its mosaic map of Jerusalem and the Holy Land. Continue to Mount Nebo, which provides panoramic views of the Holy Land and the Dead Sea, with Jerusalem, Jericho, and Bethlehem visible on a clear day. Travel down the famed King's Highway, passing through Jordan's Grand Canyon, Wadi Mujib. Stop in Kerak to visit the massive fortress that formerly housed Saladin and Richard Lionheart. We'll proceed down the King's Highway to Petra as the sceneries spread in front of you. Set up your hotel in Wadi Musa for an unforgettable dinner and overnight stay.
Day 6: Petra – Discovering Ancient Wonders
Take a guided tour to Petra, a magical city cut into rose-red mountains by the Nabateans. Explore the dramatic Siq, a tiny and twisting fissure that leads to the renowned Treasury, the Roman Theatre, the Royal Tombs, the Roman Road, the great temple, the temple of the Winged Lion, and the basin. Allow the ageless appeal of Petra to weave its spell, leaving you with wonderful memories of your honeymoon adventure. Return to your Wadi Musa hotel for a delicious meal and an overnight stay.
Day 7: Petra – Treasure Freedom
Begin the day by climbing to the Sacrifice High Place and then touring Wadi Farasa, Lions Fountain, the Garden Temple, and Soldier Tombs. Descend to the Basin, explore the Petra Museums, then mount the stairs to the Monastery for a spectacular perspective of the lovely Wadi Araba. Enjoy this free day at your leisure, creating private moments and finding hidden jewels across Petra. Return to your accommodation in Wadi Musa for a restful night's sleep.
Day 8: A Desert Adventure in Wadi Rum
Take a morning transfer to the enthralling Wadi Rum, immortalized by Lawrence of Arabia. As you explore Wadi Rum by vehicle for two exhilarating hours, marvel at the legendary Seven Pillars of Wisdom, as described by Lawrence himself. Explore Lawrence Springs, the Al Khazali Canyon, and the Thamudic and Nabatean civilizations' inscriptions. Climb one of the beautiful sand dunes for spectacular desert vistas. From there, we'll take you to the picturesque city of Aqaba, where you'll have a delicious meal and an overnight stay at a Desert Camp.
Day 9: Aqaba – Red Sea Freedom
Allow yourself a free day in Aqaba to create your own experience. Dive or snorkel in the clear seas, relax on the lovely sandy beaches, or take a glass-bottom boat tour to see the fascinating coral reefs underneath. Allow the enchantment of the Red Sea to serve as the backdrop for your romantic moments. Relax and enjoy this day of unlimited amusement, which includes an overnight stay in Aqaba.
Day 10: Aqaba – Amman – Cherish the Last Minutes
Make the most of your remaining time in Aqaba by immersing yourself in the spirit of romance. Later, we'll take you to Amman, where you may spend more time together. Enjoy a romantic meal and an overnight stay at your hotel as you reflect on your memorable honeymoon.
Day 11: Amman – Jordanian Farewell
As your unforgettable honeymoon draws to a conclusion, we'll transport you to Amman Queen Alia Airport for your flight home. Say goodbye to Jordan's breathtaking beauty, bringing with you precious memories of a honeymoon filled with love, adventure, and tranquility.
Begin a voyage of love and discovery in Jordan, where Ma'in, the Dead Sea, Petra, Wadi Rum, and Aqaba combine to offer an unforgettable honeymoon experience. Allow the fascinating landscapes, ancient wonders, and moments of tranquility to rekindle the spark of romance, resulting in memories that last a lifetime.
Amman, Dead Sea, Madaba, Nebo, Karak, Petra, Wadi Rum, Aqaba, Wadi Rum, Petra visitor center, The Siq, The Treasury, Facades Streets, The Theater, The Royal Tombs, Petra Church, The City Centre, Roman Road, Petra Basin.
Pickup from any place in Jordan and drop off.

Transfers by air-conditioned vehicle.

English-speaking guide.

Entrance fees to the sites.

Meals.

10 – night accommodation
The program does not include:
Personal travel Insurance expenses.

Tips / gratuities.

Government tax, Value Added Tax (VAT), or compulsory charges introduced after publication.

Optional excursions and activities (are subject to availability).

Any beverages with meals, unless mentioned and upon request.

Carriages and camel rides.

Extra costs due to unanticipated changes in the itinerary for reasons beyond our control.

Any other items not listed in the "includes".
Optional activities are subject to availability.

Optional private or onsite local guides.

Guides in languages other than English are available upon request and subject to availability.

Optional special private vehicles are available upon request
The itinerary may change due to unanticipated circumstances, factors beyond our control, or at the guide's discretion.
The time frame for this tour is approximate and subject to change according to the client's preference.

The tour itinerary is subject to change due to factors beyond our control and event of unforeseen circumstances or at the guide's discretion.

In the event of an increase in fuel prices, Via Jordan Travel & Tours reserves the right to raise the prices for its services without prior notice.

Optional excursions and activities are subject to availability.

Optional special private vehicles available upon request.

Copies of your passports are required in advance to issue port permits (if needed).

You need to take your passport or a good quality photocopy of it with you.

Reservations made less than 20 working days before the start of the service may be subject to change.

Your booking is confirmed only upon the provision of 50% prepayment.

Using sufficient amount of sun protection lotion is essential for avoiding sun burn.