Full Day Jeep Tour in Wadi Rum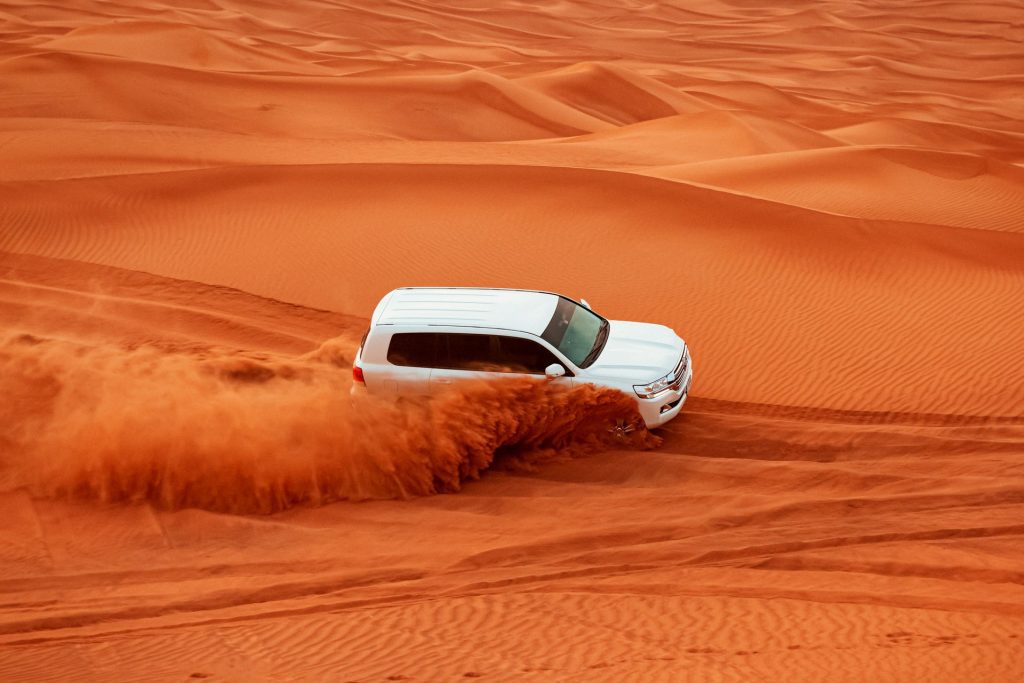 With our "Full Day Jeep Tour," go on an incredible journey into the mystical realm of Wadi Rum. Prepare for an extraordinary trip as you travel through timeless landscapes in our comfortable and sturdy jeeps, immersed in the spectacular beauty and rich history that greets you at every turn.
The adventure begins as you descend into the unfathomable depths of Khazali Canyon. Admire the ancient secrets guarded by towering walls, their surfaces covered with old rock inscriptions that bore witness to the passage of time. Immerse yourself in the intriguing stories and legends that reverberate through the canyons as you brush your fingertips over the ancient engravings, kindling your imagination and inspiring a profound feeling of awe.
Next, pay honor to Lawrence of Arabia's indomitable spirit by visiting his iconic home, Lawrence's House. Step through the remains of the sacred halls where this daring explorer found peace and inspiration in the midst of the desert's embrace. Allow history's whispers to guide your feet as you explore this simple home, feeling the echoes of Lawrence's legacy fill the air with a real sense of adventure.
Prepare to be awestruck as you enter the spectacular Burdah Canyon, a natural masterpiece engraved by the hand of nature itself. Admire the towering sandstone cliffs that soar for the skies, their brilliant colours swirling in sync with the shifting sunshine. Allow the majesty of this geological wonder to overwhelm your senses as you explore the twisting trails, creating a deep connection to the desert's raw strength and beauty.
Cross the time barrier as you gaze at the spectacular Umm Frouth Rock Bridge, a tribute to nature's craftsmanship and the erosive forces that sculpted the area. Admire this spectacular arch, which extends brazenly across the huge expanse, asking you to see the wonderful marriage of rock and sky. Capture the moment in your heart and spirit as you become one with the breathtaking environment surrounding you.
Prepare to be enchanted as you arrive to Umm Sabata's exquisite Sunset Site, where the sun says farewell to the day in a blaze of flaming colours. Witness the sky ablaze with a symphony of hues, creating a captivating light over the golden canvas of the desert. Allow the peace of the moment to sweep over you as you watch nature's spectacular display develop in front of your eyes, painting the skies with its bright palette.
Finally, surrender to the appeal of the Umm Ishrin Red Sand Dunes, where nature's creative talent is shown in bright colors and undulating forms. As you walk across these undulating dunes, feel the silky, red sands caress your feet, their delicate curves and swirls carved by the wind's loving touch. Listen to the tranquility of your surroundings and accept the peace that pours over you, engulfing you in absolute harmony.
Join us at Via Jordan Travel & Tours for an unforgettable Full Day Jeep Tour of Wadi Rum's enchanting beauty.
Allow our knowledgeable guides and comfy jeeps to take you on a journey of discovery and enchantment, where old stories and natural grandeur collide to create an experience that will leave an unforgettable impact on your spirit. Surrender to the desert's pull and let the majesty of Wadi Rum emerge before your eyes.
Wadi Rum Visitor center, Seven Pillars of Wisdom, Lawrence Springs, Al Khazali Canyon Lawrence's House and Natural Rock Bridges.
Pickup from any place in Jordan and drop off.

Transfers by air-conditioned vehicle.

English-speaking guide.

Entrance fees to the sites.

Lunch.
The program does not include:
Personal travel Insurance expenses.

Tips / gratuities.

Government tax, Value Added Tax (VAT), or compulsory charges introduced after publication.

Optional excursions and activities (are subject to availability).

Any beverages with meals, unless mentioned and upon request.

Carriages and camel rides.

Extra costs due to unanticipated changes in the itinerary for reasons beyond our control.

Any other items not listed in the "includes".
Optional activities are subject to availability.

Optional private or onsite local guides.

Guides in languages other than English are available upon request and subject to availability.

Optional special private vehicles are available upon request
The itinerary may change due to unanticipated circumstances, factors beyond our control, or at the guide's discretion.
The time frame for this tour is approximate and subject to change according to the client's preference.

The tour itinerary is subject to change due to factors beyond our control and event of unforeseen circumstances or at the guide's discretion.

In the event of an increase in fuel prices, Via Jordan Travel & Tours reserves the right to raise the prices for its services without prior notice.

Optional excursions and activities are subject to availability.

Optional special private vehicles available upon request.

Copies of your passports are required in advance to issue port permits (if needed).

You need to take your passport or a good quality photocopy of it with you.

Reservations made less than 20 working days before the start of the service may be subject to change.

Your booking is confirmed only upon the provision of 50% prepayment.

Using sufficient amount of sun protection lotion is essential for avoiding sun burn.