Full Day Hiking Tour at Wadi Rum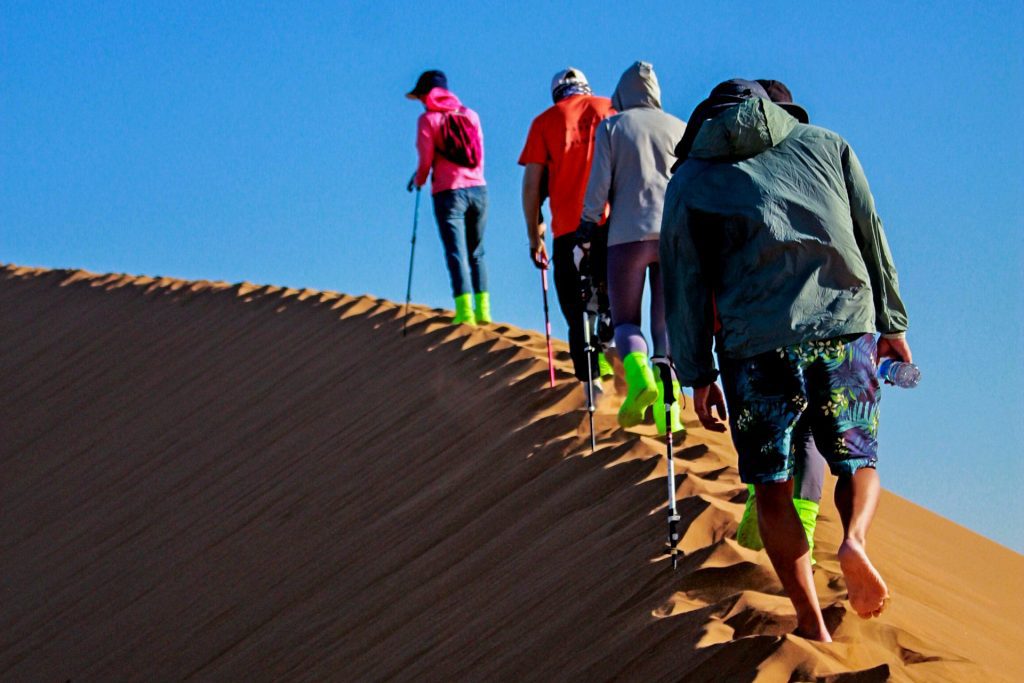 With our "Full Day Hiking Tour," embark on an unforgettable journey into the enchanting desert of Wadi Rum. Lace up your boots and ready to be taken to a place where untamed beauty and ancient wonders coexist, exposing the mysteries of this magnificent desert region.
The adventure begins as you step upon the sacred grounds of the Seven Pillars of Wisdom, seven towering monoliths that stand as sentinels of time. Marvel at the sheer size of these natural wonders, their craggy curves engraved by nature's own hands. Allow their magnificence to inspire awe in you, reminding you of the limitless wonders that await you.
Continue your journey to Al Shallalah Spring, a hidden oasis in the midst of the desert. Enjoy the sight of crystal-clear rivers rushing forth, bringing life to the desolate surrounds. Allow the quiet ambience and subtle melodies of nature to revive your spirit as you take a moment to immerse yourself in the tranquillity of this natural refuge.
When you visit the Nabatean Temple, also known as the Temple of Allat, you will feel a strong connection to the past. This hallowed retreat, embellished with complex sculptures and architectural wonders, reveals the history of a mythic and magical civilization. Allow the old stones to tell you stories of lost rites and holy devotion, sending you back in antiquity.
As your journey continues, come to Lawrence Spring, a location that carries the soul of a renowned figure. You may walk along Lawrence of Arabia's footsteps and imagine the fascination that pulled him here, among the rough beauty that enthralled him. Immerse yourself in the echoes of his journeys, and let his astonishing stories bring your own journey to life.
Prepare to be charmed as you enter Khazali Canyon, a mysterious labyrinth studded with ancient rock inscriptions. Run your fingertips over the aged surfaces, following the stories and symbols left by those who have gone before you. Each etching recounts a story of victory, love, and humanity's eternal connection to this holy country.
Enter the remains of Lawrence's home, a modest structure that once housed the ambitions and aspirations of a magnificent soul. Explore the nooks and crannies of this ancient residence, enabling the energy of Lawrence's soul to fuel your own sense of exploration and curiosity.
Admire the enthralling Anfashieh old inscriptions, which bear witness to the continuing human link with this mystical setting. Allow your imagination to go wild as you analyze the cryptic patterns and marks adorning the rocks, immersing yourself in the mystery of their significance.
Finally, give in to the fascination of the Umm Ishrin Red sand dunes, a hypnotic kaleidoscope of vivid colours that dance in the desert air. Feel the silky grains beneath your feet as you walk through this gorgeous landscape, each stride a tribute to your strength and connection to the soil. Allow the wide vistas and warm embrace of the dunes to awe you and fill your heart with unbounded delight.
Immerse yourself in the splendors of nature and the depth of history as you trek into the heart of Wadi Rum. Allow this desert realm's rough beauty and ancient mysteries to guide your feet and inspire your imagination. Join Via Jordan Travel and Tours on an extraordinary experience where every road leads to discovery and every moment becomes a treasured memory.
Wadi Rum Visitor center, Seven Pillars of Wisdom, Lawrence Springs, Al Khazali Canyon Lawrence's House and Natural Rock Bridges.
Pickup from any place in Jordan and drop off.

Transfers by air-conditioned vehicle.

English-speaking guide.

Entrance fees to the sites.

Lunch.
The program does not include:
Personal travel Insurance expenses.

Tips / gratuities.

Government tax, Value Added Tax (VAT), or compulsory charges introduced after publication.

Optional excursions and activities (are subject to availability).

Any beverages with meals, unless mentioned and upon request.

Carriages and camel rides.

Extra costs due to unanticipated changes in the itinerary for reasons beyond our control.

Any other items not listed in the "includes".
Optional activities are subject to availability.

Optional private or onsite local guides.

Guides in languages other than English are available upon request and subject to availability.

Optional special private vehicles are available upon request
The itinerary may change due to unanticipated circumstances, factors beyond our control, or at the guide's discretion.
The time frame for this tour is approximate and subject to change according to the client's preference.

The tour itinerary is subject to change due to factors beyond our control and event of unforeseen circumstances or at the guide's discretion.

In the event of an increase in fuel prices, Via Jordan Travel & Tours reserves the right to raise the prices for its services without prior notice.

Optional excursions and activities are subject to availability.

Optional special private vehicles available upon request.

Copies of your passports are required in advance to issue port permits (if needed).

You need to take your passport or a good quality photocopy of it with you.

Reservations made less than 20 working days before the start of the service may be subject to change.

Your booking is confirmed only upon the provision of 50% prepayment.

Using sufficient amount of sun protection lotion is essential for avoiding sun burn.