Wadi Rum Camel Riding for the Day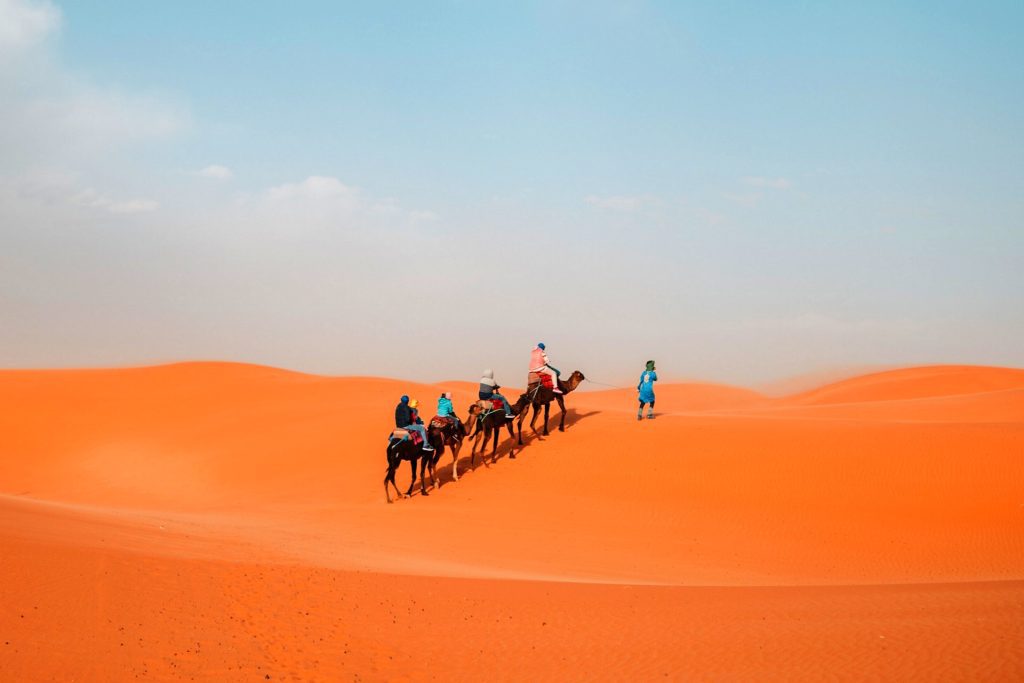 Make plans for an immersive encounter that will take you to a world where old traditions and breathtaking scenery coexist.
Traverse the renowned dunes of Wadi Rum on your noble camel friend, escorted by the wisdom of native Bedouins who have an intimate awareness of this fascinating desert oasis. Prepare to be charmed by a series of captivating encounters with some of Wadi Rum's most recognizable monuments as you begin on this incredible voyage.
First, see the beautiful Seven Pillars of Wisdom, which stand boldly from the desert floor, their carved shapes conveying stories of nature's artistic genius. Admire their magnificence and let your imagination run wild in this exotic setting.
The tranquillity of Al Shallalah Spring, whose crystal-clear waters erupt from beneath the sun-kissed dunes, bringing life into the parched surroundings, will then charm you. Allow the calming sounds and invigorating ambience to revitalize your senses, offering a brief reprieve from your enthralling voyage.
Visit the Nabatean Temple, also known as the Temple of Allat, to delve deeper into the enigma of Wadi Rum. Explore its elaborately carved walls and magnificent architecture, marveling at the artistry that has endured the test of time.
Continue your journey by visiting Lawrence Spring, a historic and mystical location. Discover the great Lawrence of Arabia's legacy, which found comfort and inspiration in the harsh beauty of Wadi Rum. Allow the stories of this great character to mingle with your own as you marvel at the settings that inspired his extraordinary travels.
Prepare to be transported to another world as you enter Khazali Canyon, a hypnotic maze studded with ancient rock inscriptions. These exquisite patterns, engraved by previous generations, provide an enthralling glimpse into the rich fabric of human existence in this desert oasis.
Explore Lawrence's abode, a property that once resonated with stories about this fascinating figure's existence in Wadi Rum. Take in the atmosphere of this simple dwelling and let Lawrence's wanderlust inspire your own sense of travel and adventure.
Discover the fascinating Anfashieh ancient inscriptions as your journey progresses, a tribute to the everlasting human connection with this sacred region. Allow these enigmatic symbols and symbols to pique your interest, inspiring thought and amazement.
Finally, let yourself be carried away by the stunning Umm Ishrin Red sand dunes, a dramatic environment filled with bright colors that dance in the sunshine. Surrender to the appeal of these spectacular dunes, whether by sandboarding or simply enjoying in their warm embrace.
Savor the pleasures of Bedouin culture with a magnificent meal that exhibits the true tastes and scents of this old desert heritage throughout your journey. Indulge in wonderful delicacies made with love and care by our trained hosts, an experience that feeds both the body and the spirit.
At Via Jordan Travel and Tours, we believe in crafting unforgettable journeys that transcend the ordinary.
Join us on this remarkable excursion, where camel riding, ancient history, and Bedouin hospitality converge to create a tapestry of memories that will forever grace your soul.
Let the wonders of Wadi Rum ignite your spirit and immerse you in a realm of enchantment and discovery.

Wadi Rum Visitor center, Seven Pillars of Wisdom, Lawrence Springs, Al Khazali Canyon Lawrence's House and Natural Rock Bridges.
Pickup from any place in Jordan and drop off.

Transfers by air-conditioned vehicle.

English-speaking guide.

Entrance fees to the sites.

Lunch.
The program does not include:
Personal travel Insurance expenses.

Tips / gratuities.

Government tax, Value Added Tax (VAT), or compulsory charges introduced after publication.

Optional excursions and activities (are subject to availability).

Any beverages with meals, unless mentioned and upon request.

Carriages and camel rides.

Extra costs due to unanticipated changes in the itinerary for reasons beyond our control.

Any other items not listed in the "includes".
Optional activities are subject to availability.

Optional private or onsite local guides.

Guides in languages other than English are available upon request and subject to availability.

Optional special private vehicles are available upon request
The itinerary may change due to unanticipated circumstances, factors beyond our control, or at the guide's discretion.
The time frame for this tour is approximate and subject to change according to the client's preference.

The tour itinerary is subject to change due to factors beyond our control and event of unforeseen circumstances or at the guide's discretion.

In the event of an increase in fuel prices, Via Jordan Travel & Tours reserves the right to raise the prices for its services without prior notice.

Optional excursions and activities are subject to availability.

Optional special private vehicles available upon request.

Copies of your passports are required in advance to issue port permits (if needed).

You need to take your passport or a good quality photocopy of it with you.

Reservations made less than 20 working days before the start of the service may be subject to change.

Your booking is confirmed only upon the provision of 50% prepayment.

Using sufficient amount of sun protection lotion is essential for avoiding sun burn.