The Highlights of Petra with Unforgettable Overnight Experience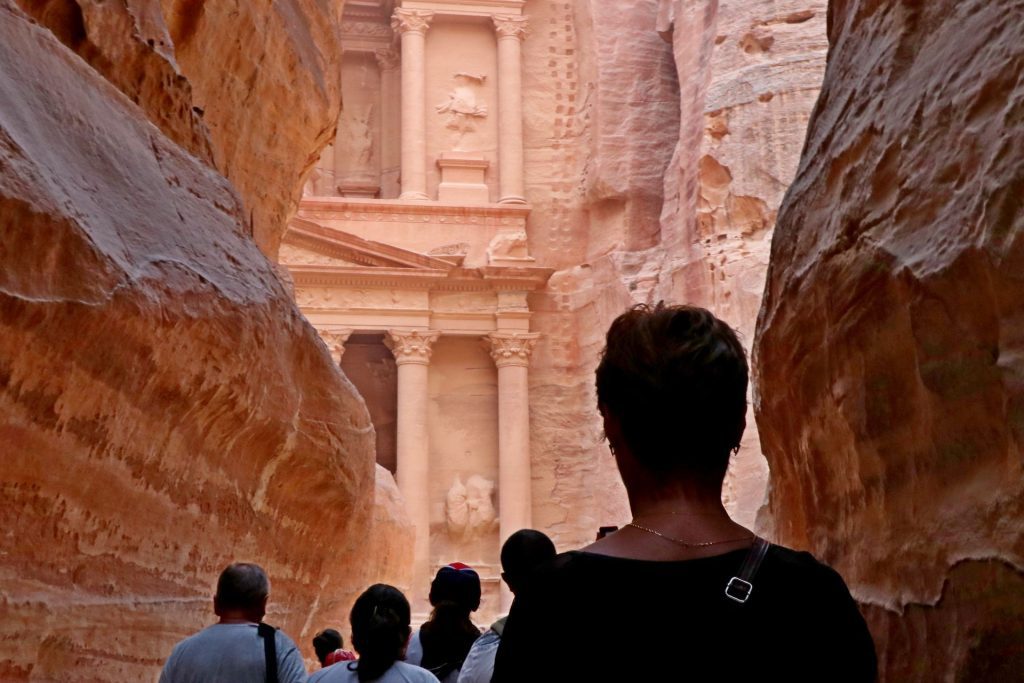 On this special two-day tour, you will be transported back in time to the awe-inspiring ancient city of Petra. Immerse yourself in this UNESCO World Heritage Site's rich history, intriguing architecture, and breathtaking vistas. Furthermore, you will get the once-in-a-lifetime opportunity to spend a wonderful night in Petra, surrounded by its ancient beauties.
Day 1: Begin your tour by traveling to Petra with our professional guides, who will give intriguing insights along the route. Prepare to be astounded as you walk through the famed Siq, a tiny canyon that leads to the landmark Treasury, which is cut into the rose-red sandstone cliffs. Discover the beautifully carved facades, the royal tombs, and the historic streets that whisper tales of the past.
As the sun sets, discover Petra's charm like never before. Each Monday, Wednesday, and Thursday after regular hours, you'll be able to see the Treasury lighted by the warm glow of hundreds of candles, creating a very enchanting ambience. Allow the gorgeous splendor of Petra to leave an everlasting impact on your heart as you immerse yourself in the environment.
Day 2: Wake up to stunning views of Petra and have a great breakfast in the center of this ancient wonder. The second day of our trip allows you to explore Petra on your own to discover hidden jewels, and learn more about its fascinating history. Explore the magnificent Monastery, ascend to the High Place of Sacrifice for panoramic views, and stroll through the Roman Theater, which is a monument to Petra's cultural legacy.
During a traditional meal, immerse yourself in Jordanian culture and delight in real Jordanian food. You'll acquire a better understanding of Petra's significance and the stories that resonate through its ancient walls with the help of our professional tour guides.
Bid farewell to Petra at the end of our two-day tour, knowing that you have experienced something absolutely special. Our well-planned schedule, luxurious lodgings, and knowledgeable guides guarantee that every moment of your visit is filled with wonder and learning.
Discover Petra's mysteries on this intensive two-day trip, which includes a memorable overnight stay.
Book your trip today and let the ancient treasures of Petra enchant you.
Pickup from any place in Jordan & drop off.

Transfers by air-conditioned vehicle.

English-speaking guide i.

Entrance fees to the sites.

Lunch.

One-night accommodation in Petra
The program does not include:
Personal travel Insurance expenses.

Tips / gratuities.

Government tax, Value Added Tax (VAT), or compulsory charges introduced after publication.

Optional excursions and activities (are subject to availability).

Any beverages with meals, unless mentioned and upon request.

Carriages and camel rides.

Extra costs due to unanticipated changes in the itinerary for reasons beyond our control.

Any other items not listed in the "includes".
Optional activities are subject to availability.

Optional private or onsite local guides.

Lunch can be excluded upon request.

Optional special private vehicles are available upon reques
The time frame for this tour is approximate and subject to change according to the client's preference.

The tour itinerary is subject to change due to factors beyond our control and event of unforeseen circumstances or at the guide's discretion.

In the event of an increase in fuel prices, Via Jordan Travel & Tours reserves the right to raise the prices for its services without prior notice.

Optional excursions and activities are subject to availability.

Optional special private vehicles available upon request.

Copies of your passports are required in advance to issue port permits (if needed).

You need to take your passport or a good quality photocopy of it with you.

Reservations made less than 20 working days before the start of the service may be subject to change.

Your booking is confirmed only upon the provision of 50% prepayment.

Using sufficient amount of sun protection lotion is essential for avoiding sun burn.