Umm Qais, Jerash and Ajloun Day Tour
Join us for an exciting day tour from Amman to three of Jordan's most captivating historical sites: Umm Qais, Jerash, and Ajloun!

We'll take you on a journey through time as we visit the ruins of the Roman city of Umm Qais, which is located 110 kilometers north of Amman on a long peninsula 378 meters above sea level with breathtaking views of the Yarmouk River, the Golan Heights, and Lake Tiberias.

The name of this city was Gadara, one of the most colorful cities of the ancient Greco-Roman Decapolis. The "Gadarene miracle," in which Jesus drove the devil out of two demon-possessed pigs and into a herd, took place here..

Today, we'll travel to Jerash, which is set in a calm valley among the Gilead highlands. This magnificent Roman Empire construction is one of the world's largest and best-preserved Roman architectural sites outside of Italy. 
Its colonnades, temples on a high hill, a splendid theater, wide squares, baths, fountains, and city walls pierced by towers and gates have all been well maintained.

Afterwards, we'll head to Ajloun, where you'll get to visit the impressive Ajloun Castle, a 12th-century fortress built by Ajlun Castle built by one of Saladin's generals (Izz al-Din Usama), who was also his nephew, in 1184 CE. to control local iron mines and prevent attacks by the crusaders, who at that time settled further south, in the city of Karak. 
The castle was wrecked by two large earthquakes in 1837 and 1927, but the Jordanian state funded a program to repair and fortify the walls, including the reconstruction of a bridge across the moat. As a result, there are now various rooms that may be visited.

Enjoy the breathtaking views of the surrounding hills and valleys.

Throughout the trip, you will be escorted by a knowledgeable guide who will share their knowledge of Jordan's history and culture. We'll transport you in a comfortable air-conditioned car, allowing you to sit back, relax, and enjoy the journey.
Join us on a day trip from Amman to Umm Qais, Jerash, and Ajloun to learn about Jordan's rich history and culture!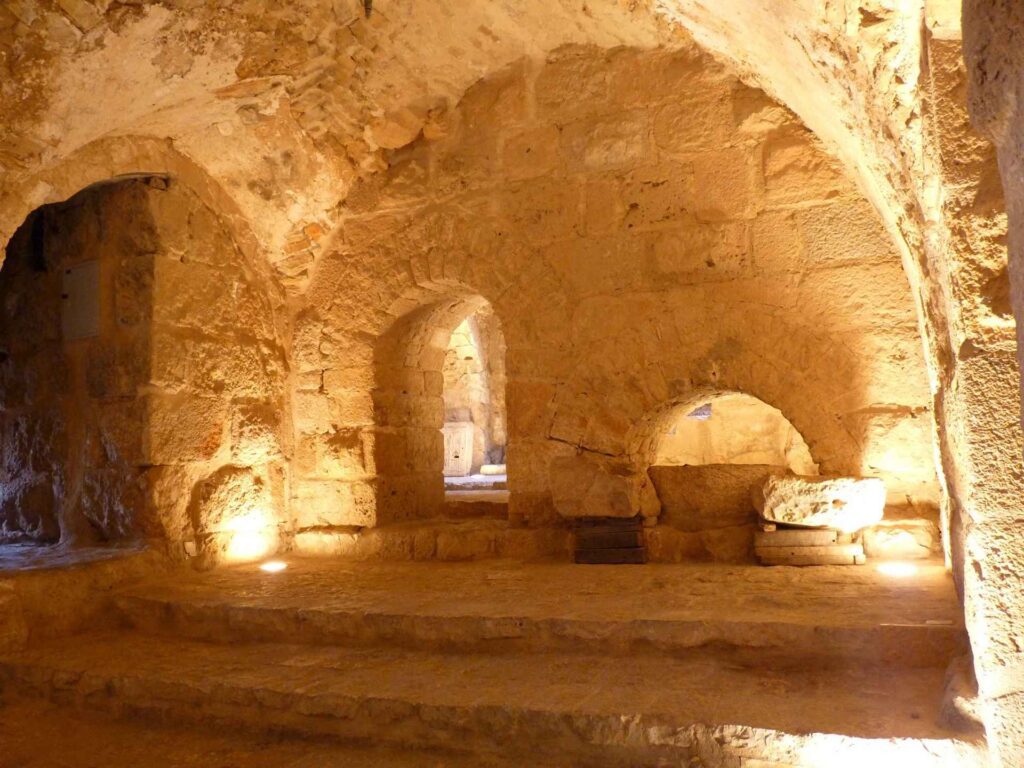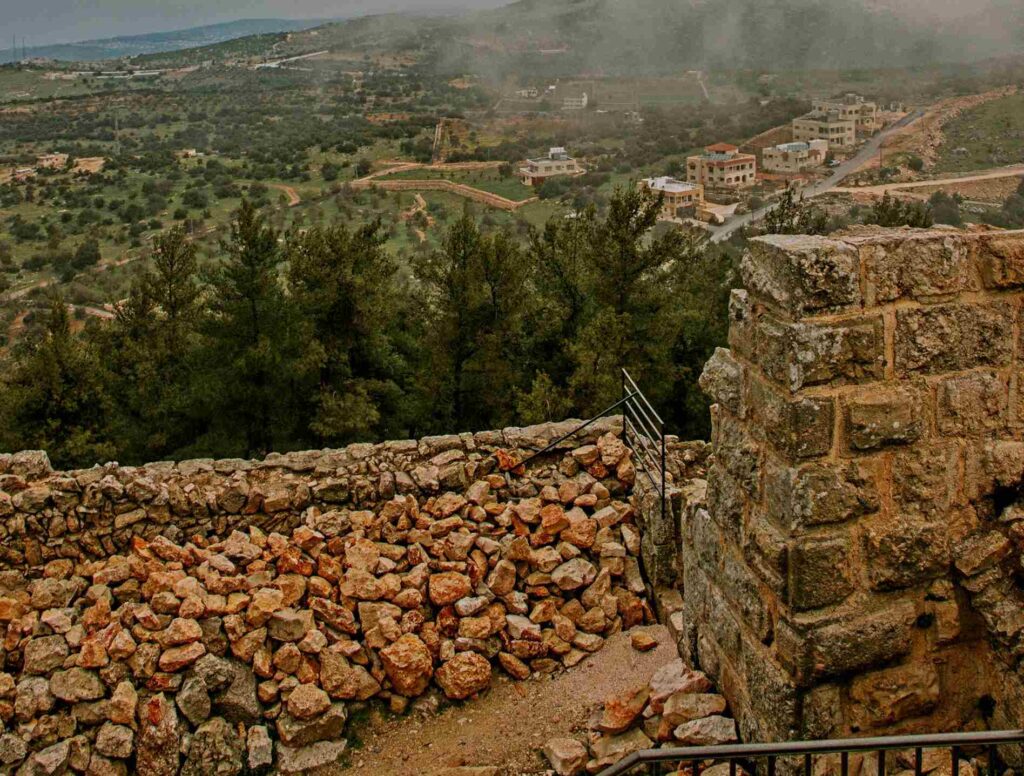 Start early in the morning (around 8:00 AM) and head north from Amman to Umm Qais, which is about a 2-hour drive away.

 Spend a couple of hours exploring the ancient Roman ruins of Umm Qais, which offer stunning views of the Jordan Valley, the Sea of Galilee, and the Golan Heights.

 Depart Umm Qais and drive south to Jerash, which is approximately a 1-hour drive away.

 Arrive in Jerash around noon and have lunch at one of the local restaurants.

 Spend the afternoon exploring the impressive Roman ruins of Jerash, which include a well-preserved amphitheater, a colonnaded street, and several temples and churches.

 Leave Jerash in the late afternoon for Ajloun Castle, a 45-minute journey away.

 Visit Ajloun Castle, which was erected by Muslims in the 12th century to protect themselves from the Crusaders.

 Return to Amman, which is roughly a 1.5-hour drive away, after viewing Ajloun Castle.

 Arrive in Amman in the evening, where you may unwind and eat at one of the city's many restaurants.
Umm Qais, Jordan Valley, the Sea of Galilee, the Golan Heights, Jerash, Roman ruins, amphitheater, a colonnaded street, temples, churches, Ajloun Castle, Crusaders.
Private tours with English-speaking guides are arranged and set at any date and time and anybody can book it. French, German, Spanish, and Russian-speaking guides are subject to request and availability.
Meet and pick up from your hotel.

Transfers by modern a / c vehicles .

Entrance fees to the sites.

Lunch.

A bottle of mineral water for each person inside the vehicle.

Services of English-speaking guide.
The program does not include:
Personal travel Insurance expenses.

Tips / gratuities.

Government tax, Value Added Tax (VAT), or compulsory charges introduced after publication.

Optional excursions and activities (are subject to availability).

Any beverages with meals, unless mentioned and upon request.

Carriages and camel rides.

Extra costs due to unanticipated changes in the itinerary for reasons beyond our control.

Any other items not listed in the "includes".
Optional activities are subject to availability.

Optional private or onsite local guides.

Guides in languages other than English are available upon request and subject to availability.
In winter, the weather in Amman can be cold, therefor warm clothing is required.

From the scorching summer sun, you need to protect yourself with hats, sunscreen lotion, loose and cool clothes in summer.
Umm Qais, Jerash and Ajloun sites are spread across a large area at various locations and altitudes, so good walking shoes are required.
A reasonable amount of walking is required.
The itinerary may change due to unanticipated circumstances, factors beyond our control, or at the guide's discretion.
The time frame for this tour is approximate and subject to change according to the client's preference.

The tour itinerary is subject to change due to factors beyond our control and event of unforeseen circumstances or at the guide's discretion.

In the event of an increase in fuel prices, Via Jordan Travel & Tours reserves the right to raise the prices for its services without prior notice.

Optional excursions and activities are subject to availability.

Optional special private vehicles available upon request.

Copies of your passports are required in advance to issue port permits (if needed).

You need to take your passport or a good quality photocopy of it with you.

Reservations made less than 20 working days before the start of the service may be subject to change.

Your booking is confirmed only upon the provision of 50% prepayment.

Using sufficient amount of sun protection lotion is essential for avoiding sun burn.