Unforgettable City Tour Special: Discover Amman's Hidden Treasures
Welcome to the ultimate Amman City Tour Special, a tailored experience that reveals Jordan's vibrant capital's heart and soul. Embark on an enthralling trip through time and culture as we take you to the city's most renowned sites and best-kept secrets. Prepare to be captivated by Amman's unique combination of old and modern wonders.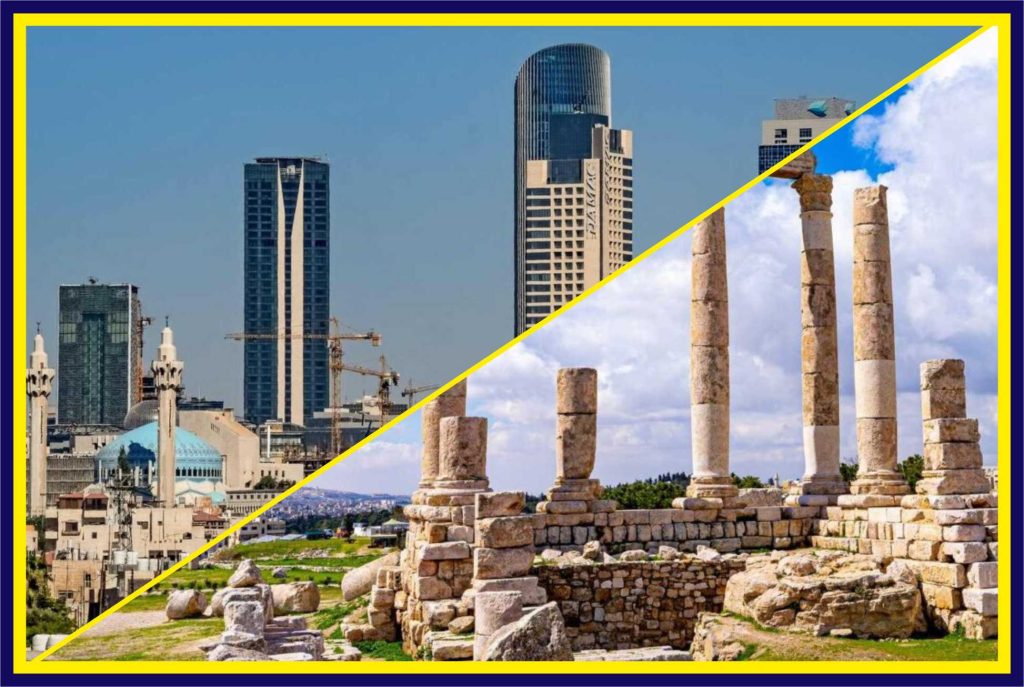 Morning: An Ancient Marvel Tapestry
Our professional guide, a local expert who will accompany you on this incredible adventure, will greet you warmly.
Citadel of Amman: Ascend to the city's highest point and discover the Amman Citadel, a historical treasure that unveils centuries of stories. Admire the grandiose Temple of Hercules and take in panoramic vistas that span eras.
Immerse yourself in the grandeur of the Roman Theatre, an amphitheater that echoes with gladiator stories and plays. Explore the corridors of history as our tour guide brings history to life.
Afternoon: A Glimpse of Contemporary Vibrancy
Gourmet Indulgence: Indulge in a magnificent meal that exhibits Jordanian cuisine's various flavours. Every meal is a work of art that pays homage to heritage while embracing modern gastronomy.
Souk Exploration: Dive into Amman's busy souks, where local life unfolds in a colorful symphony. Interact with craftspeople, browse attractive kiosks, and absorb the atmosphere of the city in its colorful markets.
Abdali Boulevard: Abdali Boulevard is a smooth transition to Amman's new side. Walk among modern architecture, visit chic stores, and soak in the city's energy at fashionable cafés.
Evening: A Harmony of Old and New King Abdullah Mosque: Experience the King Abdullah Mosque's harmonious marriage of tradition and innovation. As the sun sets, the exquisite beauty of the mosque is lit, providing a time of peace and introspection.
Sunset Panorama: Take in Amman's magnificent transition as the sun sets over the city's skyline. Capture the captivating interplay of light and shadows that marks the passage from day to night.
Gourmet Delights: End your day with a gourmet adventure that combines tradition and innovation. Indulge in a tasty feast that symbolizes the city's unique culinary traditions, which will dazzle your taste buds.
Enhance your visit with our Amman City Special Day-Tour, a single day that captures the spirit of this intriguing city. This expressive itinerary is meant to generate lasting memories, whether you're a history buff, a cultural seeker, or an adventurous traveler. Secure your seat today and set out on an adventure that promises to weave the charm of Amman into the fabric of your travel.
Amman, Temple of Hercules, the Umayyad Palace, Archaeological Museum, Roman Theater.
Private tours with English-speaking guides are arranged and set at any date and time and anybody can book it. French, German, Spanish, and Russian-speaking guides are subject to request and availability.
Meet and pick up from your accommodation.

Transfers by modern a / c vehicles .

Entrance fees to the sites.

A bottle of mineral water for each person inside the vehicle.

Services of English-speaking guide.
The program does not include:
Personal travel Insurance expenses.

Tips / gratuities.

Government tax, Value Added Tax (VAT), or compulsory charges introduced after publication.

Optional excursions and activities (are subject to availability).

Any beverages with meals, unless mentioned and upon request.

Carriages and camel rides.

Extra costs due to unanticipated changes in the itinerary for reasons beyond our control.

Any other items not listed in the "includes".
Optional activities are subject to availability.

Optional private or onsite local guides.

Guides in languages other than English are available upon request and subject to availability.
In winter, the weather in Amman can be cold, therefor warm clothing is required.

In order to protect oneself from the blazing summer heat, you should use caps, sunscreen lotion, and loose, cool clothing.
Amman is located on the East Bank Plateau, an upland with three major wadis running through it. The city was originally built on seven hills. Mountains dominate the landscape of Amman.
A reasonable amount of walking is required.
The time frame for this tour is approximate and subject to change according to the client's preference.

The tour itinerary is subject to change due to factors beyond our control and event of unforeseen circumstances or at the guide's discretion.

In the event of an increase in fuel prices, Via Jordan Travel & Tours reserves the right to raise the prices for its services without prior notice.

Optional excursions and activities are subject to availability.

Optional special private vehicles available upon request.

Copies of your passports are required in advance to issue port permits (if needed).

You need to take your passport or a good quality photocopy of it with you.

Reservations made less than 20 working days before the start of the service may be subject to change.

Your booking is confirmed only upon the provision of 50% prepayment.

Using sufficient amount of sun protection lotion is essential for avoiding sun burn.