Unveiling the Ultimate Amman and Dead Sea in Jordan: A Journey of Enchantment .
Welcome to a sublime journey across Jordan's stunning landscapes, where ancient history and natural beauty meet. Our expertly planned Amman and Dead Sea trip offers an unforgettable experience that mixes cultural riches with nature's healing force. Immerse yourself in an unforgettable experience that will leave you with memories that last a lifetime.
Discover Amman: Where the Past Meets the Present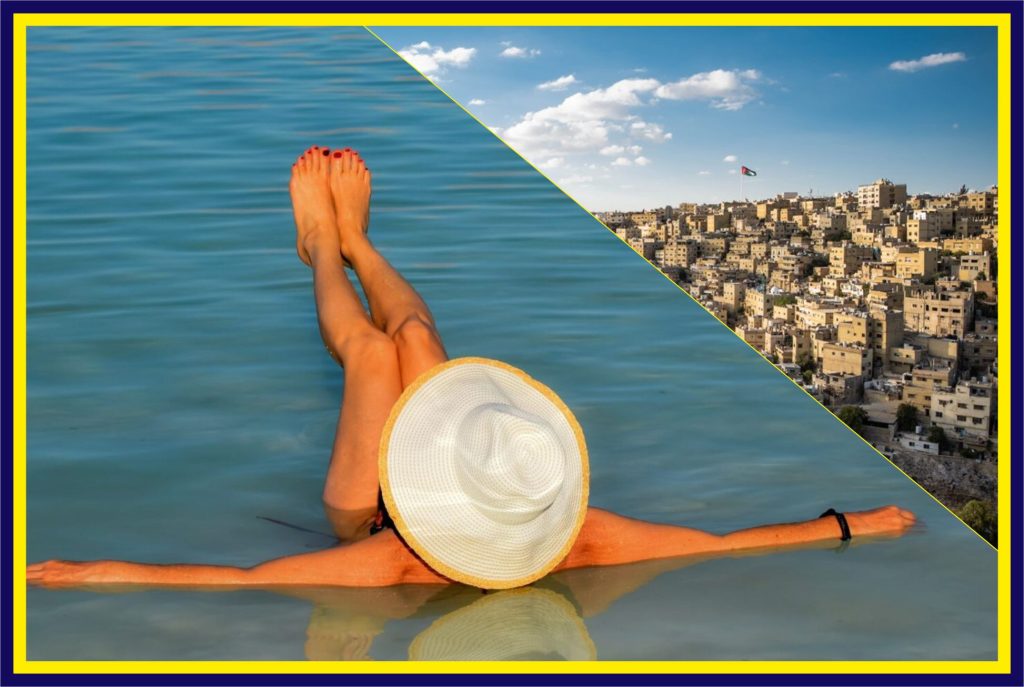 Begin your journey in Amman, Jordan's bustling capital city, where ancient history meets contemporary contemporary living. Our itinerary will take you on an exciting journey through:
The Citadel: The Citadel, an archaeological masterpiece going back thousands of years, is the pinnacle of Amman's history. Explore ancient ruins, including the famed Temple of Hercules, to uncover layers of civilizations.
Roman Theatre: Retrace the steps of history in the Roman Theatre, a vast Amphitheatre that once reverberated with audience cheers. Allow its majestic atmosphere to bring you back to the Roman Empire's golden age.
Rainbow Street: Take a trip through the colorful Rainbow Street to delight your senses. Enjoy local flavors, peruse beautiful stores, and immerse yourself in Amman's contemporary energy.
A Surreal Encounter with Nature's Miracles in the Dead Sea
Depart Amman for a picturesque journey to the world's lowest point, the otherworldly Dead Sea. This mysterious location is well-known for its mineral-rich springs and medicinal mud, providing you with an unforgettable experience:
Floating on the Dead Sea: Dive into the hypnotic feeling of easily floating on the buoyant waters of the Dead Sea. Surrender to the natural buoyancy caused by its high salt concentration, while pampering your skin to its mineral-rich waters.
Mineral-Rich Spa: Indulge in the Dead Sea mud's healing powers that will leave your skin feeling renewed and vibrant.
Panoramic Views: As the day fades to twilight, take in a beautiful sunset over the shimmering waters of the Dead Sea. The ethereal movement of colors across the horizon produces a stunning moment that you'll remember for the rest of your life.

Making Memories, Providing Comfort
Our premium fleet of cars, knowledgeable guides, and flawless logistics provide a stress-free experience.
This tour is suitable for anybody looking for a lone adventure, a romantic getaway, or a family tour.
Don't pass up the opportunity to become immersed in the charm of Amman's history and the marvels of the Dead Sea.
This enthralling journey offers an amazing combination of cultural exploration and natural refreshment.
Book your trip with us today and discover Jordan's hidden gems.
Amman, Temple of Hercules, the Umayyad Palace, Archaeological Museum, Roman Theater, Dead Sea.
Private tours with English-speaking guides are arranged and set at any date and time and anybody can book it. French, German, Spanish, and Russian-speaking guides are subject to request and availability.
Meet and pick up from your lodging.

Transfers by modern a / c vehicles .

Entrance fees to the sites.

Lunch.

A bottle of mineral water for each person inside the vehicle.

Services of English-speaking driver.
The program does not include:
Personal travel Insurance expenses.

Tips / gratuities.

Government tax, Value Added Tax (VAT), or compulsory charges introduced after publication.

Optional excursions and activities (are subject to availability).

Any beverages with meals, unless mentioned and upon request.

Carriages and camel rides.

Extra costs due to unanticipated changes in the itinerary for reasons beyond our control.

Any other items not listed in the "includes".
Optional activities are subject to availability.

Optional private or onsite local guides.

Guides in languages other than English are available upon request and subject to availability.
In winter, the weather in Amman can be cold, therefor warm clothing is required.

From the scorching summer sun, you need to protect yourself with hats, sunscreen lotion, loose and cool clothes in summer.
The air temperature at the Dead Sea is pleasant all year.

In order to protect oneself from the summer heat, you should use caps, sunscreen lotion, and loose, cool clothing.
A reasonable amount of walking is required.
The time frame for this tour is approximate and subject to change according to the client's preference.

The tour itinerary is subject to change due to factors beyond our control and event of unforeseen circumstances or at the guide's discretion.

In the event of an increase in fuel prices, Via Jordan Travel & Tours reserves the right to raise the prices for its services without prior notice.

Optional excursions and activities are subject to availability.

Optional special private vehicles available upon request.

Copies of your passports are required in advance to issue port permits (if needed).

You need to take your passport or a good quality photocopy of it with you.

Reservations made less than 20 working days before the start of the service may be subject to change.

Your booking is confirmed only upon the provision of 50% prepayment.

Using sufficient amount of sun protection lotion is essential for avoiding sun burn.