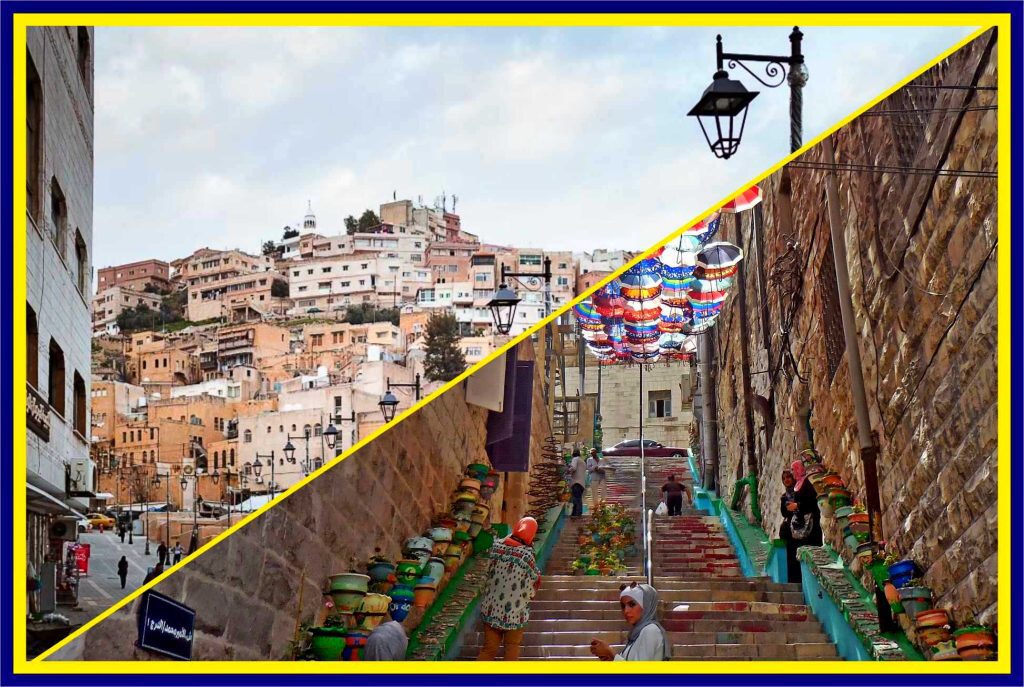 8:00 a.m. – we'll pick you up from your hotel in Amman to start our day of exploration.
9:00 a.m.- Amman Citadel
The Amman Citadel, a historic hilltop stronghold that offers a view of the city, is where we make our first visit. You can read about Amman's past, which dates back to the Bronze Age, here. Impressive Roman, Byzantine, and Islamic ruins may be seen here, including the Roman Theatre, the Temple of Hercules, and the Umayyad Palace.
11:00 a.m. – Amman's downtown
We'll then proceed to Amman's busy downtown district. You will be able to take a stroll around the lively streets and see local life first-hand. The historic Nymphaeum, a fountain complex dating back to the 2nd century AD, will be visible.
12:30 p.m. – Lunch
We'll stop for lunch at a local restaurant, where you'll be able to sample some delicious Jordanian cuisine.
At 1:30 p.m. -Abu Jaber Museum in As-Salt.
After lunch, we'll travel to the charming town of As-Salt, which is only a short drive from Amman. We'll go to the Abu Jaber Museum, which tells the story of the town and its people. Traditional crafts, costumes, and household items from As-past Salt's will be on display.
3:00 p.m. – As-Old Salt's Town.
We'll walk through the old town's winding streets, stopping to see examples of traditional architecture and crafts. You will have the opportunity to visit local shops and markets and buy souvenirs to take home.
Amman, Amman Exploration, History, Fortresses, Temple of Hercules, the Umayyad Palace, Archaeological Museum, Roman Theater, As-Salt
Private tours with English-speaking guides are arranged and set at any date and time and anybody can book it. French, German, Spanish, and Russian-speaking guides are subject to request and availability.
Meet and pick up from your lodging.

Transfers by modern a / c vehicles .

Entrance fees to the sites.

Lunch.

A bottle of mineral water for each person inside the vehicle.

Services of English-speaking driver.
The program does not include:
Tips / gratuities.

Government tax, Value Added Tax (VAT), or compulsory charges introduced after publication.

Optional excursions and activities (are subject to availability).

Any beverages with meals, unless mentioned and upon request.

Carriages and camel rides.

Extra costs due to unanticipated changes in the itinerary for reasons beyond our control.

Any other items not listed in the "includes".
Optional activities are subject to availability.

Optional private or onsite local guides.

Guides in languages other than English are available upon request and subject to availability.
In winter, the weather in Amman can be cold, therefor warm clothing is required.

From the scorching summer sun, you need to protect yourself with hats, sunscreen lotion, loose and cool clothes in summer.
Amman and As-Salt sites are spread across a large area at various locations and altitudes, so good walking shoes are required.
A reasonable amount of walking is required.
The itinerary may change due to unanticipated circumstances, factors beyond our control, or at the guide's discretion.
The time frame for this tour is approximate and subject to change according to the client's preference.

The tour itinerary is subject to change due to factors beyond our control and event of unforeseen circumstances or at the guide's discretion.

In the event of an increase in fuel prices, Via Jordan Travel & Tours reserves the right to raise the prices for its services without prior notice.

Optional excursions and activities are subject to availability.

Optional special private vehicles available upon request.

Copies of your passports are required in advance to issue port permits (if needed).

You need to take your passport or a good quality photocopy of it with you.

Reservations made less than 20 working days before the start of the service may be subject to change.

Your booking is confirmed only upon the provision of 50% prepayment.

Using sufficient amount of sun protection lotion is essential for avoiding sun burn.