A Day Trip to Biblical Landmarks: Bethany, Mt. Nebo, Madaba, and Mukawir
Set off on an incredible trek to Bethany, Mt. Nebo, Madaba, and Mukawir, where history, spirituality, and stunning panoramas collide. Our thoughtfully organized day-tour enables you to travel places rich in biblical importance, leaving you with an unforgettable link to the past. Explore antiquity's hallowed places with this lyrical itinerary, which is meant to immerse you in the heart of this spiritual journey.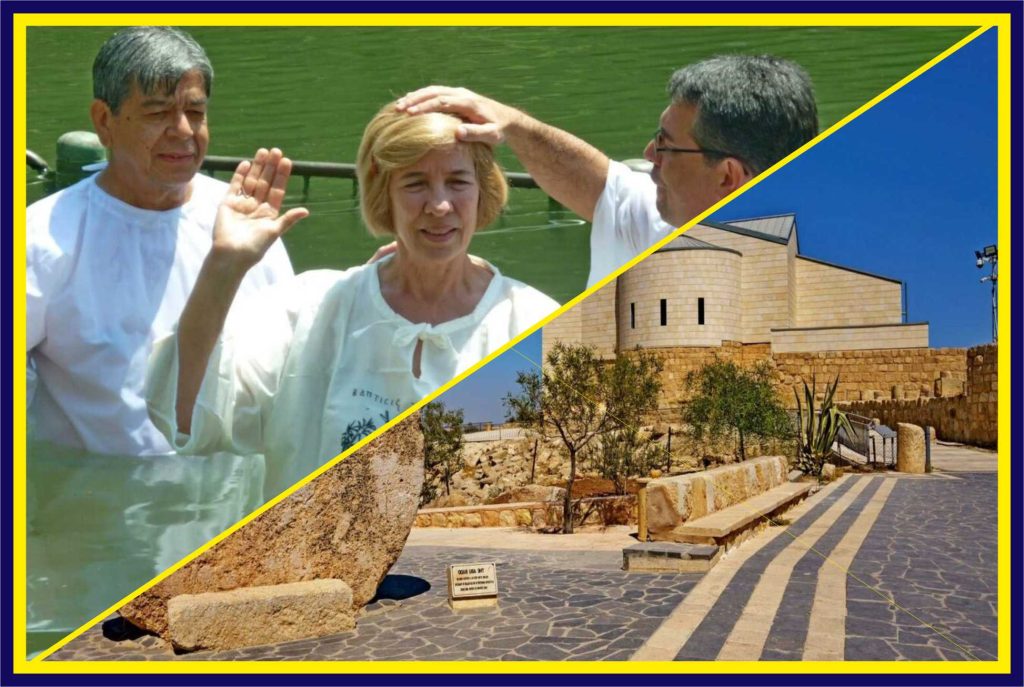 Morning: Unveiling the Past
Our skilled guide, a specialist in biblical history who will join you on this significant trip, will greet you warmly.
Bethany Jordan and Beyond: Immerse yourself in Bethany's spiritual atmosphere, where John the Baptist is said to have baptized Jesus Christ. Take in the tranquility of this hallowed spot, where echoes of the past resound in the present.
Mount Nebo: Climb to the hallowed heights of Mount Nebo, from whence Moses is claimed to have seen the Promised Land. Awe and reverence are evoked by magnificent landscapes that reach beyond the horizon.
Afternoon: Tracing Ancient Paths
Lunch Break: Relax with a leisurely meal that showcases a delectable combination of local flavors, nourishing both body and spirit.
Madaba: Visit Madaba, the city of mosaics, where exquisite antique mosaics tell stories from a bygone past. Explore the iconic Madaba Map, a mosaic that depicts the Holy Land and its monuments in exquisite detail.
Evening: Glimpses of Spiritual Legacy
Mukawir (Machaerus): Visit Mukawir, a desert stronghold built atop a rocky hill. Explore the ruins of this ancient place, where John the Baptist's life ended tragically. Allow the panoramic views to inspire introspection and devotion.
Enhance your journey with our professionally prepared day-tour through biblically significant holy areas. This expressive itinerary has been created to gratify your search for spiritual enrichment, historical knowledge, or the beauty of nature's majesty. Reserve your seat today and prepare for a day of discovery that will link you with the soul-stirring heritage of the past.
Amman, Bethany, Mt. Nebo, Archaeological Museum, St. George Church, Mukawir, Machaerus, Madaba, Jordan River
Private tours with English-speaking guides are arranged and set at any date and time and anybody can book it. French, German, Spanish, and Russian-speaking guides are subject to request and availability.
Meet and pick up from your hotel in Amman.

Transfers by modern a / c vehicles .

Entrance fees to the sites.

A bottle of mineral water for each person inside the vehicle.

Services of English-speaking guide.
The program does not include:
Personal travel Insurance expenses.

Tips / gratuities.

Government tax, Value Added Tax (VAT), or compulsory charges introduced after publication.

Optional excursions and activities (are subject to availability).

Any beverages with meals, unless mentioned and upon request.

Carriages and camel rides.

Extra costs due to unanticipated changes in the itinerary for reasons beyond our control.

Any other items not listed in the "includes".
Optional activities are subject to availability.

Optional private or onsite local guides.

Guides in languages other than English are available upon request and subject to availability.
In winter, the weather in Amman can be cold, therefor warm clothing is required.

From the scorching summer sun, you need to protect yourself with hats, sunscreen lotion, loose and cool clothes in summer.
Each location's distinct terrain adds to the enthralling voyage, revealing the layers of history and spirituality that have molded these landscapes over millennia.
A reasonable amount of walking is required.
The itinerary may change due to unanticipated circumstances, factors beyond our control, or at the guide's discretion.
The time frame for this tour is approximate and subject to change according to the client's preference.

The tour itinerary is subject to change due to factors beyond our control and event of unforeseen circumstances or at the guide's discretion.

In the event of an increase in fuel prices, Via Jordan Travel & Tours reserves the right to raise the prices for its services without prior notice.

Optional excursions and activities are subject to availability.

Optional special private vehicles available upon request.

Copies of your passports are required in advance to issue port permits (if needed).

You need to take your passport or a good quality photocopy of it with you.

Reservations made less than 20 working days before the start of the service may be subject to change.

Your booking is confirmed only upon the provision of 50% prepayment.

Using sufficient amount of sun protection lotion is essential for avoiding sun burn.